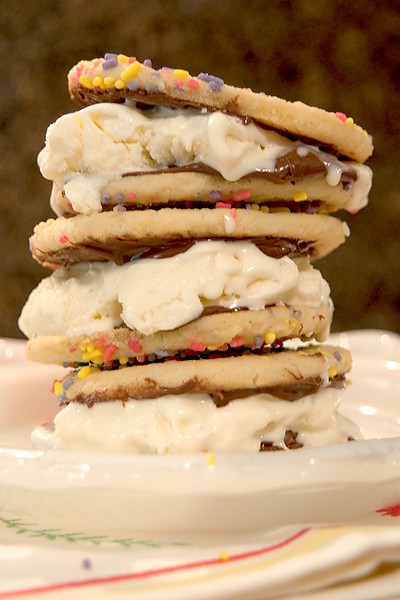 Is it hot where you are right now? Do you have hungry children who need an afternoon snack? Do you love Nutella? If you answered yes to any of those questions, then today's post is just for you!
Summer, hungry children and Nutella go together in the best possible way. After spending an afternoon last week swimming and playing, I had two ravenous children with far too much time until dinner. Knowing that a snack was in order, I grabbed the Nutella jar, some cookies and ice cream and went to work. I know what you're thinking – "cookies, ice cream and Nutella? What are you thinking?" Well, because I'm Nana, it is my prerogative to spoil them at every possible opportunity, you know. Besides I got a bunch of kisses and hugs for this snack. It was a win-win all the way around.
This is so simple I didn't even bother with writing up an actual recipe for it. You won't need it!
For each ice cream sandwich you'll need two cookies of your choice (I used sugar cookies with sprinkles – graham crackers would also be good), two tablespoons of Nutella and a scoop of ice cream.
Spread the bottoms of the cookies with Nutella.
Add a scoop of slightly softened ice cream on one of the cookies and top with the other cookie.
Hand this to a hungry child and watch them devour it!
Enjoy!
Nutella Ice Cream Sandwich
Sugar cookies spread with Nutella and filled with a scoop of ice cream
Ingredients
2 cookies of choice
2 tablespoons Nutella
1 scoop ice cream
Instructions
Spread Nutella on bottoms of cookies.
Top one cookie bottom with a scoop of ice cream.
Top with the second cookie.
May be made ahead of time, wrapped individually, and stored in the freezer.
Notes
All text and photographs on Never Enough Thyme are copyright protected. Please do not use any material from this site without obtaining prior permission. If you'd like to post this recipe on your site, please create your own original photographs and either re-write the recipe in your own words or link to this post.
http://www.lanascooking.com/2011/07/20/nutella-ice-cream-sandwich/