Make your morning a little more delicious with a bowl of this hearty Date Nut Oatmeal! It's brimming with dates, nuts, brown sugar, and cream.
Make your morning a little more delicious with a bowl of this hearty Date Nut Oatmeal with pecans! Top it off with a sprinkle of brown sugar and some milk and you have an unforgettable breakfast!
Last Sunday morning was really unusual. Why, you ask? Because I slept until 9:00! That almost never happens.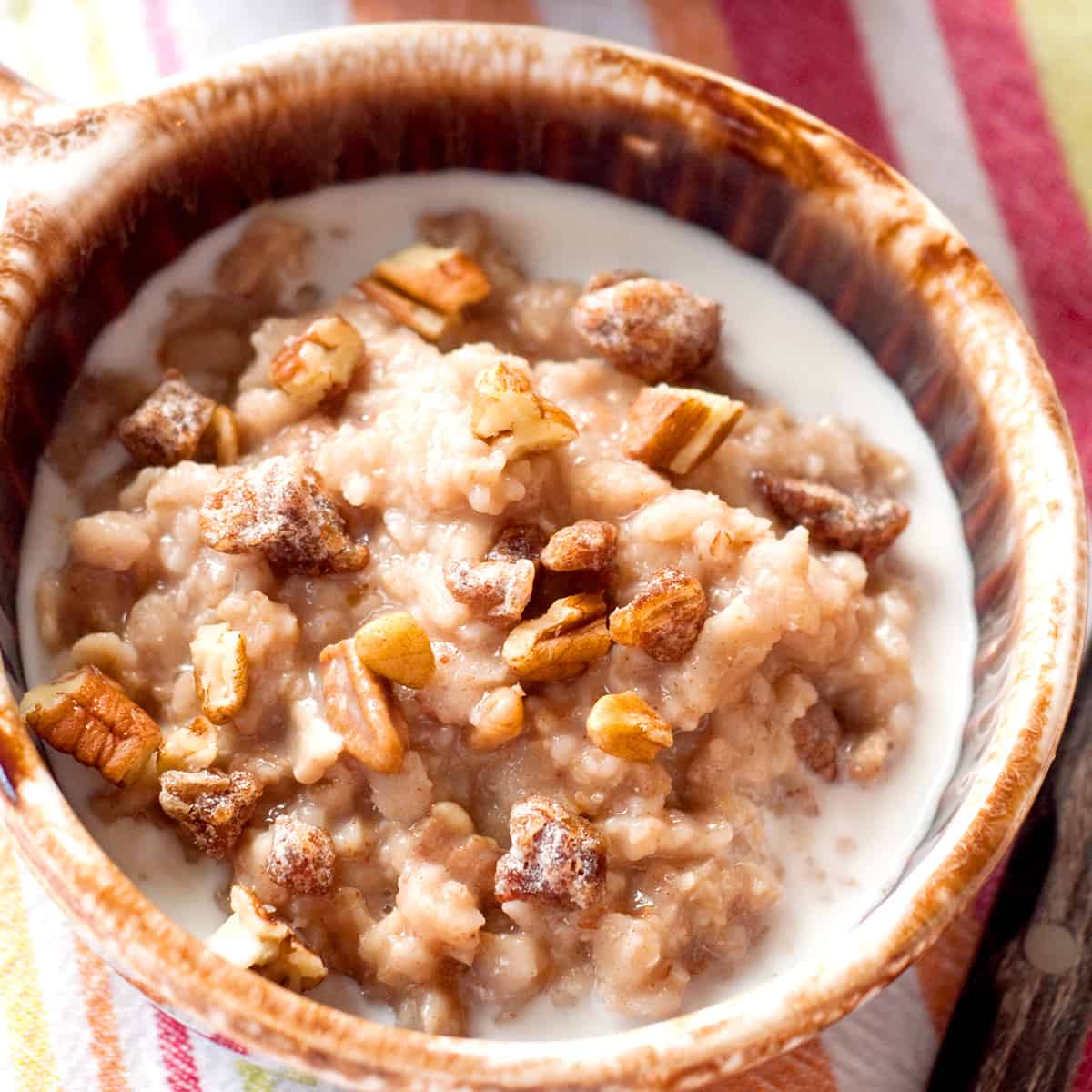 Not that I'm an early, eager riser either. I just usually wake up around 6:30 or so on the weekends and can't get back to sleep. Probably because that's about my normal weekday wakeup time.
BeeBop was already up and piddling around the house, being very quiet so that I could sleep in, sweetie that he is. So when I opened my eyes and saw how late it was, I practically jumped out of bed. It felt like I was just wasting the day away lying there and I couldn't stand that!
Since it was sooo late (she said sarcastically), I thought I'd just make a quick breakfast of oatmeal and toast. And while I was cooking, BeeBop asked me whether my oatmeal recipe was on the blog. I really had to think a minute about that. Was it? Surely not. It's just oatmeal, you know. Who needs a recipe, right?
Then he reminded me that I make our oatmeal a little differently. Not much, but just a little more interesting with the addition of dates and pecans. Not a big change but oh how it bumps up the flavor!
💭 What are the benefits of eating dates?
Dates have many health benefits and are high in nutrients and full of antioxidants. They can help keep you regular, prevent microbial infections, reduce the risk of cancer, and much more. It's kind of amazing that one little fruit carries so many benefits and tastes so great!
🙋‍♀️ Are dates high in sugar?
Dates are high in natural sugar, 1 medium-sized pitted date has around 4-5g of sugar. But, when using them as a replacement for white or brown sugar, you can't beat the health benefits.
🙋‍♂️ Are dates better than sugar?
I think so! White sugar has little nutritional value other than providing carbs that boost your blood sugar levels. Dates on the other hand contain vitamins C, B1, thiamine, riboflavin, niacin, and vitamin A. Not to mention that they're full of fiber!
So, when you substitute white sugar with dates as in this breakfast oatmeal recipe, you can feel better about what you're putting into your body!
🔪 How to Make Date Nut Oatmeal
---
I typically use old-fashioned rolled oats or the longer cooking steel-cut oats for our oatmeal. Never instant. My favorite is steel cut, but you do have to be willing to invest a bit of time for them. Just depends on how bleary-eyed and sleepy I am, really. This recipe uses rolled oats.
So, start by bringing the water and salt to a boil. Stir in the oats, pecans, and dates. Reduce the heat to medium, cover, and cook for about 5 minutes stirring once or twice.
Remove the oats from the heat and let them stand for a few minutes. Sprinkle with brown sugar (or turbinado sugar if you like), add a splash of milk or cream, and a few additional dates and pecans as a pretty garnish.
❓ Questions About Date Nut Oatmeal
---
Do you make oatmeal with milk or water?
I prefer to cook oatmeal in water. You'd think that cooking in milk would produce a creamier oatmeal texture, but it more often creates a sticky, thick, gummy, texture.
Can I add milk to my oatmeal after cooking?
Yes, you can add cow's milk or nut milk like almond, or coconut – even oat milk to your cooked oatmeal. Not only will the cold milk help cool it off, but it will give your oatmeal that creamy consistency you're looking for!
Can I use walnuts or almonds in this recipe?
Of course! You can add in any type of nuts you have on hand. I'd go for walnuts over almonds, but whatever you prefer is fine.
What's the best way to naturally sweeten oatmeal?
While this recipe uses dates, you can also sweeten oatmeal with honey, mashed bananas, berries, agave nectar, maple syrup, or a sugar substitute. Keep in mind that substituting white sugar with another sweetener such as honey or maple syrup doesn't automatically make the recipe better for you. Sugar is sugar and moderation is key in everything!
HAVE YOU TRIED THIS RECIPE?
I'd LOVE to know what you thought!
Leave a rating below in the comments and let me know how you liked it!

WE'RE ON FACEBOOK, TOO!
If you'd like to hang out with lots of other Southern Comfort Food lovers, make sure to join my FREE PRIVATE Facebook group.
📖 Recipe
Date Nut Oatmeal
Make your morning a little more delicious with a bowl of this hearty Date Nut Oatmeal! It's brimming with dates, nuts, brown sugar, and cream.
Print It
Rate It
Save
Saved!
Ingredients
3 ½

cups

water

½

teaspoon

salt

optional

2

cups

rolled oats

⅔

cup

chopped pecans

⅔

cup

chopped dates
Instructions
Bring the water and salt to a boil.

Stir in the oats, pecans and dates.

Reduce heat to medium.

Cover and cook for 5 minutes, stirring once or twice.

Remove from heat and let stand for 2-3 minutes before serving.

Serve with a sprinkle of brown sugar or turbinado sugar and a splash of milk or half and half.

Sprinkle over additional dates and pecans if desired.
Nutrition Information
Serving
1
|
Calories
348
kcal
|
Carbohydrates
48
g
|
Protein
8
g
|
Fat
16
g
|
Saturated Fat
2
g
|
Sodium
304
mg
|
Potassium
382
mg
|
Fiber
8
g
|
Sugar
17
g
|
Vitamin A
13
IU
|
Vitamin C
1
mg
|
Calcium
50
mg
|
Iron
2
mg
Nutrition information is calculated by software based on the ingredients in each recipe. It is an estimate only and is provided for informational purposes. You should consult your health care provider or a registered dietitian if precise nutrition calculations are needed for health reasons.
Share on Facebook
Pin Recipe