Thanksgiving, my favorite holiday of the year, is just two days away! Our grandchildren will be here this evening, our daughter is driving down tomorrow and everyone else comes in on Thursday morning. This year, we're having all of BeeBop's family, minus only his youngest sister, with us for Thanksgiving. They rarely all get together in one place at the same time, so I'm hoping it will be a special treat for them. I just know it's going to be a great day.
I have the menu all planned, the groceries all purchased, the tables all set and the camera battery charged! The only thing I can't decide on is one last dessert. I'm making a classic pumpkin pie and my Pecan Cheesecake Pie, which are both delicious, but I need just one more thing. And I think this Gingerbread-Apple Cobbler might just be perfect. It's quick and easy to make and is really scrumptious. It has three luscious layers – apple pie on the bottom, soft gingerbread in the middle and a crunchy pecan streusel on top. Yum!
Let me warn you, though, that this recipe uses pre-packaged ingredients (gasp!). Yes, a boxed mix and canned pie filling (double-gasp!). I'll probably have my official food blogger card revoked and get kicked out of a couple of food blogger groups for this, but you know what? I don't see a thing wrong with it. So what if the ingredients are already measured and boxed for me and the pie filling is cooked and canned. That saves me loads of time that I could spend with my family instead. But, if you want to make up your own gingerbread and peel apples for hours and cook up your own pie filling, please do.
This recipe really couldn't be simpler to put together. Start by measuring out two cups of the gingerbread mix.
Stir that together with 3/4 cup of water until you have a smooth mixture. Set it aside for now.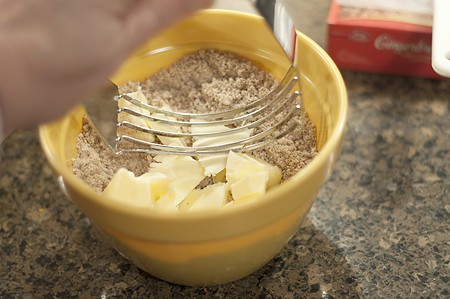 Next, mix together the remaining gingerbread mix and the brown sugar. Cut in 1/4 cup of butter until you have a crumbly mixture. Stir in the pecans. Also set that aside for now.
Combine the two cans of apple pie filling and the remaining 1/4 cup butter in a large heavy saucepan. Cook over medium heat until the butter is melted and the filling is thoroughly heated.
Now, assemble the cobbler in a greased 11×7 baking dish. Simply pour the hot pie filling mixture into the dish.
Top the filling evenly with the gingerbread.
Sprinkle the pecan mixture evenly on the top.
Bake for 30 to 35 minutes or until set. Serve warm with ice cream.
Enjoy!

Gingerbread-Apple Cobbler
Prep Time: 15 minutes

Cook Time: 35 minutes

Total Time: 50 minutes

Layers of apple pie filling, soft gingerbread and crunchy pecan streusel combine in this easy to prepare, family friendly dessert.
Ingredients
1 package gingerbread mix
3/4 cup water
1/4 cup packed light brown sugar
1/2 cup butter
1/2 cup chopped pecans
2 (21-oz.) cans apple pie filling
Vanilla ice cream
Instructions
Preheat oven to 375.
Stir together 2 cups gingerbread mix and 3/4 cup water until smooth. Set aside.
Stir together remaining gingerbread mix and brown sugar.
Cut in 1/4 cup butter until mixture is crumbly.
Stir in chopped pecans. Set aside.
Combine apple pie filling and remaining 1/4 cup butter in a large saucepan.
Cook, stirring often, over medium heat until butter is melted and filling is thoroughly heated.
Lightly grease an 11x7 baking pan.
Spoon hot pie filling mixture into the baking pan.
Spoon gingerbread mixture evenly over hot apple mixture.
Sprinkle with pecan mixture.
Bake for 30 to 35 minutes or until set.
Serve with ice cream.
Notes
All text and photographs on Never Enough Thyme are copyright protected. Please do not use any material from this site without obtaining prior permission. If you'd like to post this recipe on your site, please create your own original photographs and either re-write the recipe in your own words or link to this post.



Other gingerbread recipes you might enjoy from around the internet:
What I was cooking…