Here we are. Right smack in the middle of the most wonderful time of the year! Also, the busiest. And the most stressful. And the time with the most tempting food choices to derail your diet. Ahhhh….Christmas.
Well, I have a new recipe for you today that will help keep you right on track. It's quick. It's easy. And it's pretty healthful, too. It uses one of Pillsbury's refrigerated pizza crusts for the quick and easy part. And it's topped with roasted veggies to keep it healthful. It doesn't get much easier than this for a fast Friday night dinner.
Just open and unroll your pizza crust onto a greased baking sheet. Mix together a little ricotta with an egg and a dash of salt and pepper. Slather the ricotta all over the pizza crust.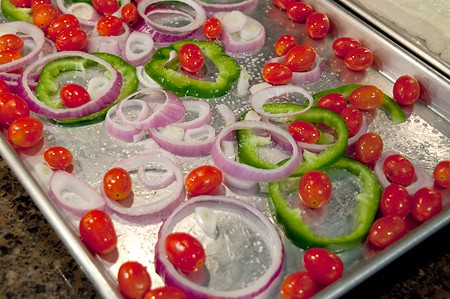 Put your choice of veggies on a second baking sheet. I used a box of grape tomatoes, some thinly sliced red onion, and green bell pepper. Choose whatever your family likes. You can switch out the green bell pepper for red or another kind of pepper altogether. Or add some thinly sliced zucchini. Whatever suits you. Drizzle the veggies with a little olive oil and a light sprinkle of salt. Mix it all up with your hands to get the olive oil distributed evenly.
Pop both baking sheets into your 350 degree preheated oven and cook for about 15 minutes or until the tomatoes start to burst open and slump a bit. Remove the veggies when that happens, but leave the crust in a bit longer if needed for additional browning.
Remove the crust from the oven and top with some fresh baby spinach.
Add the roasted veggies on top of the spinach. Serve immediately.
Enjoy!
Note: I am required by FTC rules to disclose that I will receive compensation from General Mills for this post. However, all opinions are strictly my own. Always have been. Always will be.
Roasted Veggie Pizza
Yield: 6-8

Prep Time: 10 minutes

Cook Time: 18 minutes

Total Time: 28 minutes

A classic pizza crust topped with ricotta and roasted vegetables. Quick and easy Friday night dinner!
Ingredients
1 pkg. Pillsbury Classic Pizza Crust
1 cup ricotta cheese
1 egg
1/4 tsp. salt
1/8 tsp. black pepper
1 pkg. grape tomatoes
1/2 medium red onion, thinly sliced
1 small green bell pepper, thinly sliced
2 tblsp. olive oil
3 oz. baby spinach
Instructions
In a small bowl, mix together the ricotta, egg, salt and pepper. Stir until well combined. Spread the ricotta mixture onto the pizza crust which has been placed on a greased baking sheet.
Place the tomatoes, onion, and bell pepper on a second baking sheet. Drizzle with olive oil and sprinkle lightly with salt. Toss with hands so that all veggies are coated with olive oil. Place both baking sheets in a 350 preheated oven. Bake 15 minutes or until the tomatoes have begun to burst open and soften. Remove from oven but leave the crust in for 5 or more additional minutes if needed to achieve desired degree of browning.
Top the crust with the baby spinach and roasted veggie mixture. Serve immediately.
Notes
The vegetables can be changed according to your family's preferences. Substitute red instead of green bell peppers, or use Cubanelle (a favorite of ours). Thinly sliced zucchini is a good choice as well.

Other toppings could be added as well. Black olives, Parmesan cheese, and red pepper flakes are all good choices.

All text and photographs on Never Enough Thyme are copyright protected. Please do not use any material from this site without obtaining prior permission. If you'd like to post this recipe on your site, please create your own original photographs and either re-write the recipe in your own words or link to this post.


Other veggie pizza recipes you might enjoy from around the internet:
What I was up to…