Sweet and Savory Tuna Salad
Tuna salad made with crispy, diced apple and sweet pickle relish.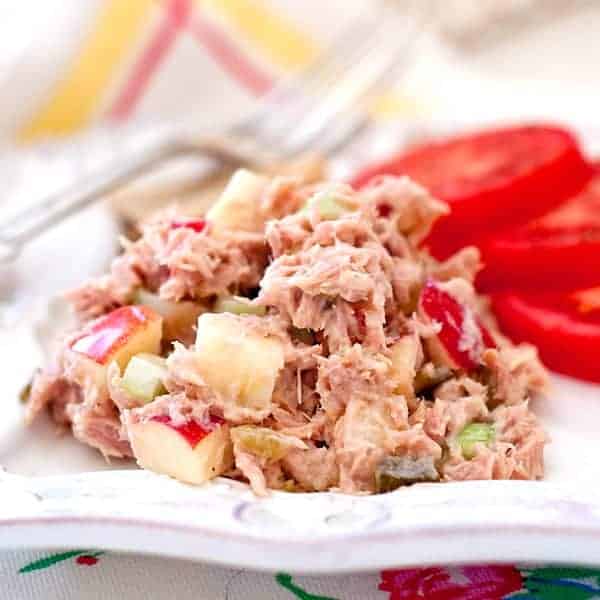 My slightly sweet, slightly savory version of Tuna Salad made with diced, crispy apple, and sweet pickle relish. Serve it with crackers or as a sandwich.
I've been sitting here staring at my computer screen for about thirty minutes now trying to think of something to say about tuna salad.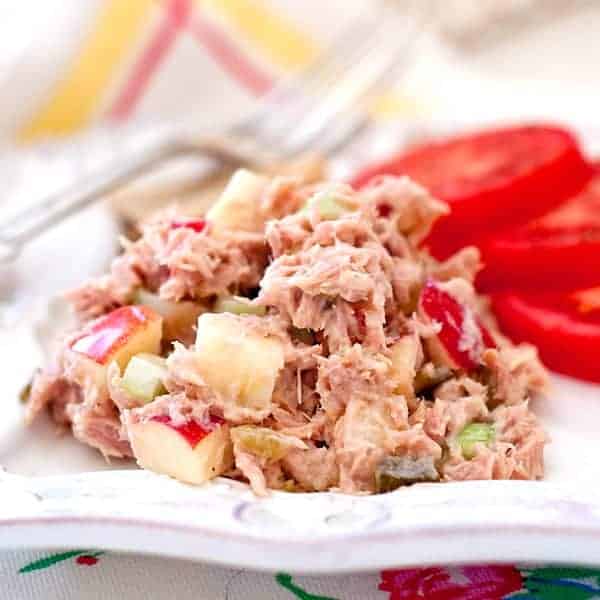 Tuna salad. Seriously?
It's one of those things that most of us throw together without much thought. And I'd bet that almost every person reading this makes theirs just a little differently.
Maybe you like pickles in yours and maybe you don't. Maybe someone else likes a tiny bit of mustard stirred in or some finely chopped scallion.
BeeBop definitely likes what I would say is a savory tuna salad. His version includes finely chopped dill pickles, finely chopped green onion, a tiny touch of mustard, and a bit of mayo to bind it all together.
I, however, prefer this sweet-savory tuna salad. It has just the right amount of sweetness from the apple and pickles and just the right amount of savory from the tuna and mayonnaise.
Must be my southern roots. Southerners love their "sweet and salt" you know. Give us a biscuit with a pat of butter, a slice of salty ham and spoonful of sweet peach preserves, and we're in heaven. Or some perfectly cooked field peas or butter beans with a bit of pear relish on the side. It's as much a part of us as "please and thank you", "yes ma'am and no ma'am", and "y'all."
So, with a nod to my fellow Southerners who no doubt understood the previous paragraph perfectly, here's my favorite tuna salad.
How to Make Tuna Salad?
It's easy! To make my sweet-savory Tuna Salad, simply place all the ingredients in a medium mixing bowl and stir gently to combine. Serve as sandwiches or as a salad with fresh, sliced tomatoes and crackers or melba toast.
🧾 More Recipes You'll Like
HAVE YOU TRIED THIS RECIPE?
I'd LOVE to know what you thought!
Leave a rating below in the comments and let me know how you liked it!

WE'RE ON FACEBOOK, TOO!
If you'd like to hang out with lots of other Southern Comfort Food lovers, make sure to join my FREE PRIVATE Facebook group.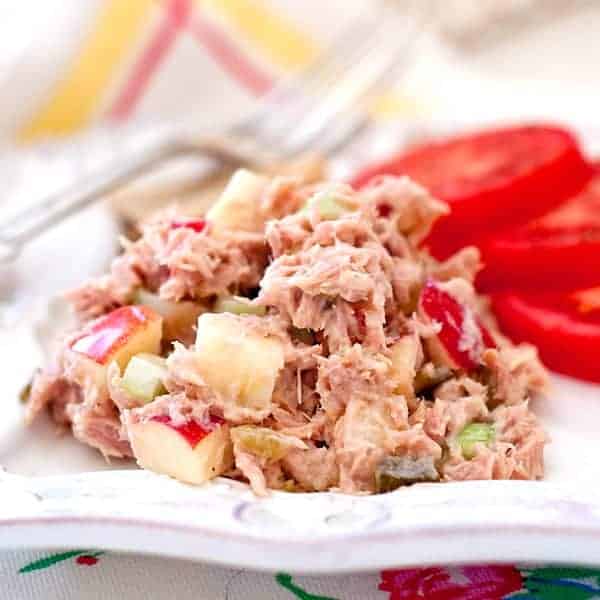 Ingredients
9

ounces

tuna in extra virgin olive oil

1/2

medium apple

diced small

1

rib

celery

diced small

3

tablespoons

sweet pickle relish

lightly drained

⅛

teaspoon

salt

⅛

teaspoon

black pepper

4

tablespoons

light mayonnaise
Instructions
Drain the tuna of any excess oil.

Place all ingredients in a medium mixing bowl.

Stir gently to combine.

Serve as sandwiches or a salad with fresh, sliced tomatoes and crackers or melba toast.
Notes
Nutrition Information
Serving
1
|
Calories
188
kcal
|
Carbohydrates
9
g
|
Protein
19
g
|
Fat
8
g
|
Saturated Fat
1
g
|
Polyunsaturated Fat
4
g
|
Monounsaturated Fat
3
g
|
Trans Fat
1
g
|
Cholesterol
14
mg
|
Sodium
502
mg
|
Potassium
190
mg
|
Fiber
1
g
|
Sugar
6
g
|
Vitamin A
253
IU
|
Vitamin C
1
mg
|
Calcium
15
mg
|
Iron
1
mg
Nutrition information is calculated by software based on the ingredients in each recipe. It is an estimate only and is provided for informational purposes. You should consult your health care provider or a registered dietitian if precise nutrition calculations are needed for health reasons.
Share on Facebook
Pin Recipe