It's almost apple picking time here in north Georgia! One of the nicest weekend afternoons you could possibly ask for in this part of the country is spending a day driving into the mountains and stopping at all the little apple stands. It's the time of year when the air is clear, the light is bright, the leaves are gloriously colored, and fresh apples are everywhere you look. It's really a not-to-be-missed annual rite in these parts.
One of my favorite apple treats that I look forward each Fall is baked apples. Sometimes I bake them simply with a pat of butter, some sugar, and cinnamon. But sometimes I take it up a notch and top them with a mixture of dried cranberry and pecans, orange marmalade and brown sugar. Delicious!
To make these perfect little Fall treats, choose apples that will hold their shape well during baking. I used Gala but Rome and Braeburn work well, too. Preheat the oven to 350 degrees.
In a small bowl, mix together all the filling ingredients – chopped pecans, dried cranberries, orange marmalade, and brown sugar. Wow. Could there be a better combination? I don't think so.
Now, cut the apples in half and scoop out the core. I like to use a grapefruit spoon for that. Those serrated edges clean the core out nicely.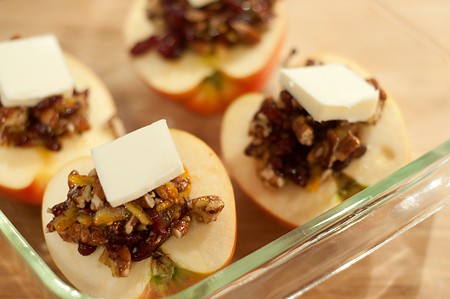 Next set the apple halves in a small baking dish and top each with 1/4 of the pecan-cranberry mixture. Top each with a pat of butter.
Pop the dish in the oven and bake for 30-40 minutes or until the apples are tender. Be sure to baste them every once in a while with some of the pan juices.
Serve them just as they are, or with a small scoop of vanilla ice cream.
Enjoy!
Baked Apples with Cranberries and Pecans
A perfect Fall treat! Baked apples topped with a pecan and cranberry filling.
Ingredients
1/2 cup chopped pecans
1/4 cup dried cranberries
2 tblsp. orange marmalade
1 tblsp. brown sugar
2 baking apples
2 tblsp. butter
Instructions
Preheat the oven to 350 degrees.
In a small bowl, combine the pecans, cranberries, orange marmalade, and brown sugar. Stir together until well mixed. Set aside.
Halve and remove the core from the apples. Place the halves, cut side up, in a baking dish.
Top each apple half with some of the pecan-cranberry mixture and a pat of butter.
Bake for 30-40 minutes or until apples are tender. Baste occasionally with accumulated pan juices.
Remove from oven and allow to stand for 5-10 minutes.
Serve plain or with a scoop of vanilla ice cream.
Notes
Use apples that hold their shape for this recipe. Suggestions - Rome, Gala, or Braeburn. Recipe adapted from Martha Stewart's Everyday Food.
All text and photographs on Never Enough Thyme are copyright protected. Please do not use any material from this site without obtaining prior permission. If you'd like to post this recipe on your site, please create your own original photographs and either re-write the recipe in your own words or link to this post.
Other baked apple recipes you might enjoy from around the internet:
What I was up to…