Y'all know how much I love my "heritage" recipes. This one of the absolutely best of those. Just chock full of childhood memories – Egg Custard Pie. I'm not absolutely certain that this pie is strictly a southern heritage recipe, but it seems so to me. Maybe that's just because it has always been one of my favorites.
Now, if you're looking for one of those "mile high" type pies that's rich and extra sweet, then this pie is not for you. But if you want a luscious, creamy treat that is perfect after any meal, I have your recipe right here. This is really nothing more than egg custard baked in a pie crust. It has the richness of whole milk and eggs and the perfume of a dusting of nutmeg but it is not overly sweet. If I had to choose my favorite pie, it would be difficult to choose between this one and a coconut meringue, but I think the egg custard would win.
This is the simplest recipe that I know for egg custard. Lots of recipes require the milk to be scalded and gradually beaten into the egg and sugar mixture and I've made it that way many, many times. But, I have also found that it doesn't make much difference at all whether the milk is scalded or just added right into the eggs and sugar. I can't tell the difference in the finished pie and skipping that scalding step makes this recipe go so quickly. I'm all for fewer steps and less time making dessert. In fact, you can make this pie up in less than five minutes, pop it in the oven and have a lovely dessert baking away while you cook dinner.
Eggs, milk, and vanilla with a dusting of nutmeg make this traditional southern Egg Custard Pie Click To Tweet
Start by preparing the pie crust. Now I won't go into it all over again, but just suffice it to say that homemade pie crusts and I are not friends. We're barely on speaking terms. Homemade pie crust hates me and the feeling is pretty much mutual. So, I'll start with a frozen crust which I have thawed according to its package directions. Prick the crust all over with the tines of a fork. Lightly beat an egg white and brush it all over the unbaked crust. The egg white will help keep the crust from becoming soggy.
And for some reason, I always think egg custard is best in a regular crust instead of a deep dish. It just seems more old-fashioned and that fits perfectly with this pie.
Preheat the oven to 400 degrees. Set the crust aside while you prepare the custard. In a medium bowl, add the beaten eggs and egg yolk, the sugar, salt and vanilla. Mix those together a little and then whisk in the milk.
Put the prepared crust on a baking sheet and then pour the custard into the crust. You will probably have a bit left over just like I did. You can cook that up in two little custard cups. It makes two delicious little treats for the cook :-) Dust the top of the pie and custard cups with nutmeg.
Carefully place the baking tray into the oven and let the pie cook for 30 to 35 minutes. Check to see if your pie is ready by inserting a knife near the center. If it comes out clean, you're all set.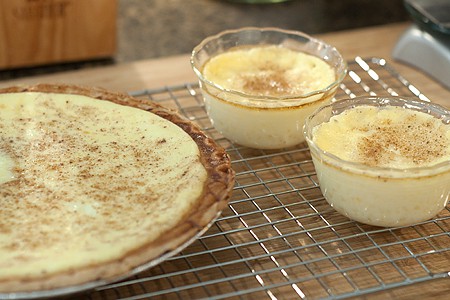 Remove the pie (and custard cups if you used them) to a cooling rack. Serve at room temperature and refrigerate any leftovers. Occasionally I serve a spoonful of very lightly sweetened whipped cream alongside my Egg Custard Pie, but I think it's really perfect all by itself.
Enjoy!
Egg Custard Pie
Old-fashioned egg custard pie with a dusting of nutmeg.
Ingredients
1 (9-inch) unbaked pie crust
1 egg white, lightly beaten
3 whole eggs plus one egg yolk, beaten
3/4 cup sugar
1/4 tsp. salt
1 tsp. vanilla extract
2 1/2 cups whole milk
1/4 tsp. ground nutmeg
Instructions
If using a frozen pie crust, allow it to thaw at room temperature according to its package directions.
Prick the crust all over with the tines of a fork.
Brush thoroughly with beaten egg white. This helps prevent the crust from becoming soggy.
Set the crust aside.
Preheat the oven to 400 degrees.
In a medium bowl, add the beaten eggs, sugar, salt, and vanilla. Beat together.
Using a wire whisk, add the milk.
Place the prepared pie crust on a baking sheet.
Pour the egg and milk mixture into the pie crust filling baking cups with any excess mixture.
Sprinkle the top with nutmeg.
Bake for 30-35 minutes or until a knife inserted near the center comes out clean.
Remove from the oven and transfer to a cooling rack.
May be served either cold or at room temperature.
Notes
All text and photographs on Never Enough Thyme are copyright protected. Please do not use any material from this site without obtaining prior permission. If you'd like to post this recipe on your site, please create your own original photographs and either re-write the recipe in your own words or link to this post.
More Pie Recipes on Never Enough Thyme
Other custard recipes you might enjoy: