I have debated with myself for a long time about whether to post this recipe. A really long time. Not just because almost nobody is going to know what it is. Those folks are going to be few and far between. But mostly because old-time southern food has had such a bad reputation. It doesn't need me adding fuel to the fire with old recipes that just reinforce that stereotype. Yet, despite all those reasons nagging me, I still wanted to do it. So, here it is. Streak o' Lean.
Who's ever heard of Streak o' Lean? Speak up. <testing, testing, is this thing on?>
What the Heck is Streak o' Lean?
Okay, well Streak o' Lean is kind of the opposite of bacon. Where bacon is smoked and has a streak of fat among the lean meat, streak o' lean is salt cured and has a streak of lean among the fat. Yes, that's right, streak o' lean is salt pork. And it's taken a step further by coating it in flour and deep frying.
Now before you send the food police around to my house and start proceedings to revoke my official food bloggers license, just wait a minute. As crazy as the food world is today about bacon, if I had said I was deep frying bacon some of y'all would be in a swoon right now. You know you would.
And besides, this is not something to be eaten every day of the week. As a matter of fact, the best I can remember it has been about 25 years since I last cooked Streak o' Lean. Although it can still be found on restaurant buffet lines in rural areas of the South, it's really one of those once or twice in a lifetime kind of recipes. But be warned, once you've had it, you'll never forget it. You'll crave it. You will look for it at every buffet, and you'll make an excuse to "just have a little bite."
A very old deep south recipe for Streak o' Lean (deep fat fried salt pork). Presented for historical purposes - nobody really eats this way every day. Click To Tweet
How to Cook Streak o' Lean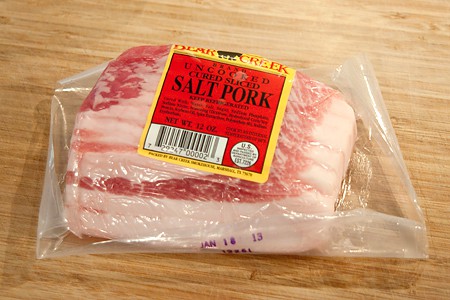 So how do you cook Streak o' Lean? Well, you start with some salt pork. It's the same thing that you use to season your pot of greens or a pot of baked beans. You can buy it in one piece or sliced. Go ahead and get the sliced for this recipe.
Before you go any further, you need to soak the salt pork. This step draws out a lot of the salt and, believe me, you don't want to skip this. I know some restaurants that don't soak it at all, just fry it up, but I prefer to draw out some of the salt first. I happened to have buttermilk on hand and used it this time. Any kind of milk works just fine. Some people, instead of soaking, will boil the salt pork for about ten minutes, drain it and then proceed with the recipe. If you're short on time, that works as well.
Now remove the salt pork from the milk letting most of it drain away. Discard the milk. Place the salt pork on a baking sheet and sprinkle it liberally with ground pepper.
Then flour it well on both sides.
Heat about a 1/4 inch of peanut oil in a heavy skillet. When the oil is hot, carefully lower the prepared pieces of salt pork into the pan. Cook, turning once, until lightly browned, crispy, and cooked through.
Put the finished slices on a paper towel lined plate to remove excess oil.
Enjoy! (?)
Streak o' Lean
Yield: 4 servings

Prep Time: 5 minutes

Cook Time: 8 minutes

Total Time: 13 minutes

A very old deep south recipe for Streak o' Lean.
Ingredients
Salt pork
Milk or buttermilk
Pepper
Flour
Peanut oil
Instructions
Place the sliced salt pork in a container and cover with milk or buttermilk. Let sit for several hours to draw out some of the salt. Remove the salt pork from the milk. Discard the milk.
Pepper each slice of salt pork and then dredge lightly in flour.
Add peanut oil to a depth of a ¼ inch to a heavy skillet. Heat the oil over medium high heat. Carefully add the prepared salt pork slices to the hot oil. Cook, turning once, until lightly browned and cooked through (about 7-8 minutes).
Remove to a paper towel lined plate to drain excess oil.
Notes
This recipe is presented primarily for historical purposes. Nobody really eats this way every day :-)

All text and photographs on Never Enough Thyme are copyright protected. Please do not use any material from this site without obtaining prior permission. If you'd like to post this recipe on your site, please create your own original photographs and either re-write the recipe in your own words or link to this post.
Recommended Products
As an Amazon Associate and member of other affiliate programs, I earn from qualifying purchases.
Nutrition Information:
Yield: 4 Serving Size: 1
Amount Per Serving:Calories: 238 Total Fat: 9g Saturated Fat: 3g Trans Fat: 0g Unsaturated Fat: 6g Cholesterol: 12mg Sodium: 283mg Carbohydrates: 30g Fiber: 1g Sugar: 3g Protein: 8g

Nutrition information is calculated by Nutritonix and may not always be perfectly accurate. Use your own judgment.

I usually link to other similar recipes in this space, but I have to tell you there's almost nothing on the internet about Streak-o-Lean. So, instead, here are a few links about salt pork and a couple of recipes where it's used as an ingredient.