Have you started planning your Thanksgiving menu yet? I've been thinking about it some lately and was looking for something a little out of the ordinary. I like to change things up with a new recipe or two from year to year so I've been trying out a few new things. Like this butternut squash recipe. It's definitely a keeper and it's going on the menu for this year.
This is simply roasted butternut squash tossed with pecans and blue cheese. Easy, quick, and full of flavor! My official taste tester, otherwise known as BeeBop, and I both agreed that it was one of the best ways we've found to enjoy butternut squash.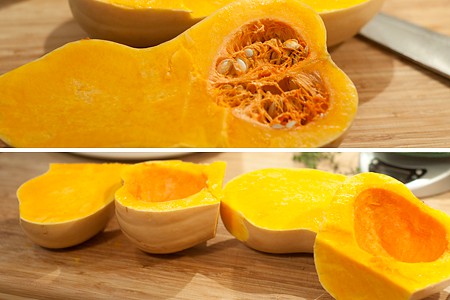 Start by preparing the squash. BeeBop always has to help with this step. Cutting that squash in half takes some muscle! Once you have it in manageable pieces, scoop out all the seeds and the "goo" and peel the squash. For me, it's easiest to use a vegetable peeler for that task. And a grapefruit spoon makes cleaning the seed cavity very easy.
After you've cleaned and peeled the squash, cut it into about 1″ cubes. Put the cubes on a baking sheet, drizzle them with olive oil and sprinkle over the thyme leaves. Toss it well so that all the cubes are coated with olive oil.
Roast the squash in a 425 degree oven for 30-45 minutes or until it's tender and just lightly golden brown.
Remove the baking sheet from the oven and let the squash cool for a few minutes.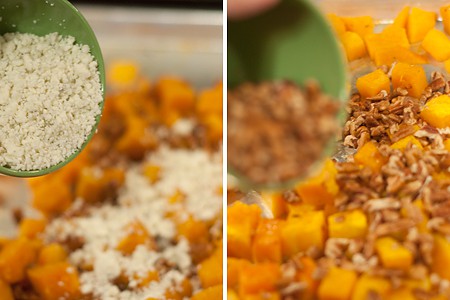 Toss the baked squash with the pecans and blue cheese. Add some additional fresh thyme leaves if desired.
Enjoy!
Butternut Squash with Pecans and Blue Cheese
Total Time:
1 hour
5 minutes
Roasted butternut squash tossed with pecans and blue cheese.
Ingredients
1 medium butternut squash (about 4.5 pounds)
3 tblsp. olive oil
6-8 stems of fresh thyme
1/2 cup chopped pecans
1/2 cup crumbled blue cheese
Instructions
Preheat the oven to 425 degrees.
Halve or quarter the squash and scoop out the seeds. Peel and then cut the squash into 1" cubes.
Put the squash in a single layer on a baking sheet. Drizzle with the olive oil and sprinkle with thyme leaves. Toss so that all the squash is coated with oil.
Roast for 30-45 minutes or until squash is tender.
Remove from the oven and allow to cool briefly. Toss with pecans and blue cheese. Add additional fresh thyme leaves if desired.
Notes
Recipe source: The Cooking Channel
All text and photographs on Never Enough Thyme are copyright protected. Please do not use any material from this site without obtaining prior permission. If you'd like to post this recipe on your site, please create your own original photographs and either re-write the recipe in your own words or link to this post.
Other butternut squash recipes you might enjoy from around the internet:
What I was up to…