Sometimes it's hard to come up with new things to share with you here on the blog. It's something like having writer's block. Except with pots and pans. A cooking block? So whenever that happens, I always try to think back to recipes that I loved as a child. Those dishes that were special favorites and still make me smile today.
This recipe was inspired by one of those childhood favorites. A luscious pear salad.
I think I remember Mama saying she learned the recipe in her high school Home Economics class, but I could be wrong about that. No matter. It was one of my most favorite things that she put on the table during my childhood years.
The salad consisted of a halved pear topped with a little dollop of mayonnaise and plenty of grated cheddar cheese. Yum. So simple and so delicious. The contrast of the acid bite of pear with the smooth, creamy mayonnaise and the tangy cheddar cheese was just an unbeatable combination. I still serve that salad even after all these years and I never tire of it.
But I thought maybe I'd do a little update of it. Not to make improvements really, just to put a little different spin on it. That's how this Pear Salad with Blue Cheese Dressing came about. I used sliced, fresh pears topped with a lightened blue cheese dressing and toasted almonds for a little crunchy texture. And it is just divine.
Truth time – I made this while BeeBop was working in the garage on a project and ate the whole thing before he came back in the house. He didn't even get a taste :-)
The first step is to make the dressing. Combine the yogurt, sour cream, lemon juice, blue cheese, salt and pepper in a small bowl. Stir together until well mixed. Stir in a little milk or cream until the mixture is the consistency you like for dressing. Set aside.
Toast the slivered almonds in a 350 degree oven. Watch carefully since they will burn easily. I speak from experience.
Halve the pears, remove the core and slice crosswise.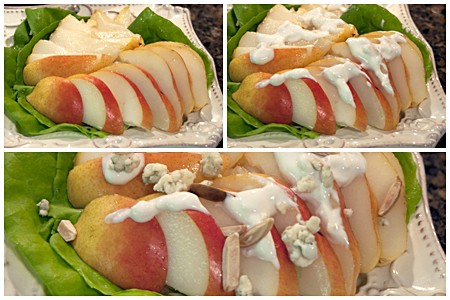 Transfer each sliced pear to a lettuce-lined salad plate. Drizzle with dressing and top with toasted almonds. Add additional blue cheese crumbles if desired.
Enjoy!
Yields 2 servings
Pear Salad with Blue Cheese Dressing
Fresh, sliced pears topped with tangy blue cheese dressing and toasted slivered almonds.
15 minPrep Time
10 minCook Time
25 minTotal Time
Ingredients
Fresh pears, core removed, sliced
1/2 cup slivered almonds
Lettuce
Crumbled blue cheese

For the dressing:

1/4 cup Greek yogurt
1/4 cup low-fat sour cream
1 tblsp. lemon juice
1-2 oz. blue cheese, crumbled
1-2 tblsp. milk or cream
Salt and pepper
Instructions
Make the dressing – combine the yogurt, sour cream, lemon juice, blue cheese, salt and pepper in a small bowl. Stir until well combined. Add enough milk or cream to create the consistency you like. Set aside.
Toast the almonds – Preheat the oven to 350 degrees. Place the almonds in a single layer on a baking sheet and cook for 8-10 minutes or until lightly browned. Check after about 6 minutes and watch closely to prevent burning. Remove from oven and set aside to cool.
For each serving, place a sliced pear atop a lettuce-lined salad plate. Drizzle with dressing. Sprinkle with toasted almonds and additional crumbled blue cheese.
Notes
All text and photographs on Never Enough Thyme are copyright protected. Please do not use any material from this site without obtaining prior permission. If you'd like to post this recipe on your site, please create your own original photographs and either re-write the recipe in your own words or link to this post.
7.6.5
12
https://www.lanascooking.com/pear-salad-with-blue-cheese-dressing/
Lana Stuart | Never Enough Thyme
Other pear salad recipes you might enjoy from around the internet:
What I was cooking…