We're still in full-on summer mode around here. Hot days and warm nights. Actually sweltering days with a heat index around 110 and nights where the air conditioning can't keep up with the heat. This kind of weather makes me just not want to cook. Or eat much either.  It always seems that I tend to snack more in the summer. Especially on weekends. Little snacks during the day rather than complete meals. And I've always found that sandwiches really fit the bill in hot weather. Cut them into halves or fourths and they become a perfect afternoon snack to share with one or two others. Of course, the cold sandwiches require no heating up of the kitchen at all and most hot sandwiches just need a little time in a press or an electric grill to make them all warm and yummy.
Last Saturday afternoon was one of those typically hot days when snacks just seemed more appropriate than lunch so I got out my old George Foreman grill and made up this gorgeous sandwich. The sandwich is an interesting combination of flavors with a little tanginess from the Dijon mustard plus a little salty taste from the ham, the rich creaminess of the brie and a tart, sweet apple. The whole thing is grilled until the brie is runny and delicious but the apple keeps its fresh, crisp crunch. It was completely delicious and I'll definitely be making it again. I could also see this sandwich cut into tiny triangles and served as a tea sandwich. I probably would skip the grilling for tea :-)
You start by mixing some soft, room temperature butter with Dijon mustard. Then spread some of the mixture on two slices of bread.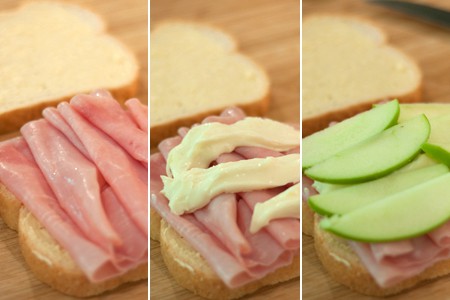 Top the bread with some good deli ham, two or three slices of brie and half a Granny Smith apple very thinly sliced. Put the top on your sandwich and then spread one side very lightly with a little more of the mustard-butter mixture.
Place the buttered side down on the grill or press. Lightly butter the remaining side with the rest of the mustard-butter. Close the grill and cook according to your grill's instructions.
The result will be a beautifully browned tangy, salty, sweet, creamy delightful sandwich! Let it cool just slightly and then…
Enjoy!
[amd-zlrecipe-recipe:27]
–Inspired by a recipe from Food Network Magazine's May 2011 edition
Other Panini recipes you might enjoy from around the internet:
What I was cooking…