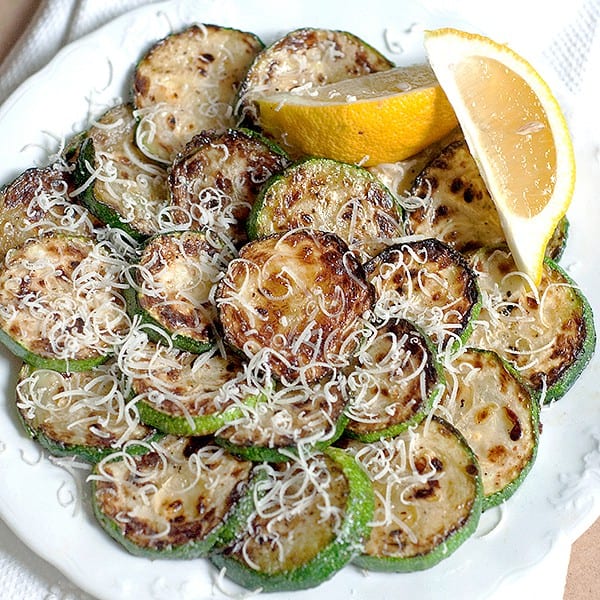 There's just something about this time of year. Right after the holidays, I always crave fresh, light, bright foods. I'm sure it's a bodily reaction to all the rich, indulgent eating that goes on around Christmas.
I mean, really, we just spent way over a month eating turkey, dressing, homemade cakes, pies, candies, prime rib, roasted buttery vegetables, and loaded mashed potatoes. I can't imagine why I'd crave something fresh, can you?
When I want something fresh, light, and easy, this Pan Fried Zucchini with Lemon and Parmesan is one of the recipes that I often turn to.
I know most people would think of this as a summer recipe when zucchini are overrunning the garden, but I like it year round. And zucchini are always available and inexpensive in my grocery store.
Fresh, tender pan fried zucchini topped with lemon and Parmesan cheese. Click To Tweet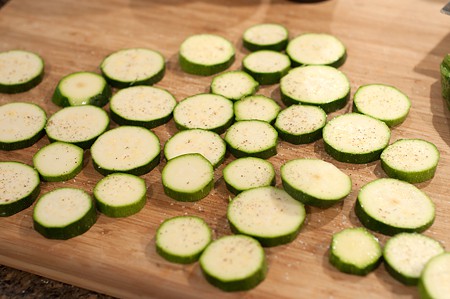 All you need to do is slice your zucchini into about 1/4″ rounds, then salt and pepper it on both sides.
Heat a good, heavy skillet over medium heat and add some olive oil to the pan.
Then cook the zucchini until it's golden brown on one side, flip it over and cook the other side.
Be sure to add the zucchini in a single layer to the pan so the slices don't overlap and make good contact with the pan.
Work in batches and keep the finished slices warm in a low oven.
When you're finished, arrange the zucchini in a serving plate, squeeze on a little lemon juice and sprinkle with Parmesan cheese.
Last step – enjoy!
Pan Fried Zucchini with Lemon and Parmesan
Tender zucchini, pan fried and topped with lemon and Parmesan cheese.
Ingredients
4 small zucchini, washed and cut in 1/4-inch rounds
Salt and pepper
3-4 tblsp. olive oil
1/2 lemon
2 tblsp. grated Parmesan cheese
Instructions
Generously sprinkle both sides of the zucchini slices with salt and black pepper. Set aside.
Heat a large, heavy skillet over medium heat. When the skillet is hot, add half the olive oil.
Place the zucchini in the pan, making sure that the slices don't overlap. Cook for about 5 minutes or until the bottom of the slices is nicely browned. Turn and cook the other side until browned.
Transfer finished zucchini slices to a baking sheet and keep warm in a 200° oven while you finish cooking the remaining slices.
Transfer the cooked zucchini slices to a serving plate. Squeeze lemon juice over and sprinkle with grated Parmesan.
Notes
Original recipe from "Welcome to Claire's"

All text and photographs on Never Enough Thyme are copyright protected. Please do not use any material from this site without obtaining prior permission. If you'd like to post this recipe on your site, please create your own original photographs and either re-write the recipe in your own words or link to this post.
Other zucchini recipes you might enjoy: