11 Best St. Patrick's Day Recipes
My Best St. Patrick's Day recipes for your celebration. Choose from my list including everything from Irish Stew to Boxty to Mr. Guinness' Cake for dessert.
It's almost time for the "wearin' o' the green." The one day every year that people of Irish heritage set aside to honor Ireland's foremost patron saint, St. Patrick.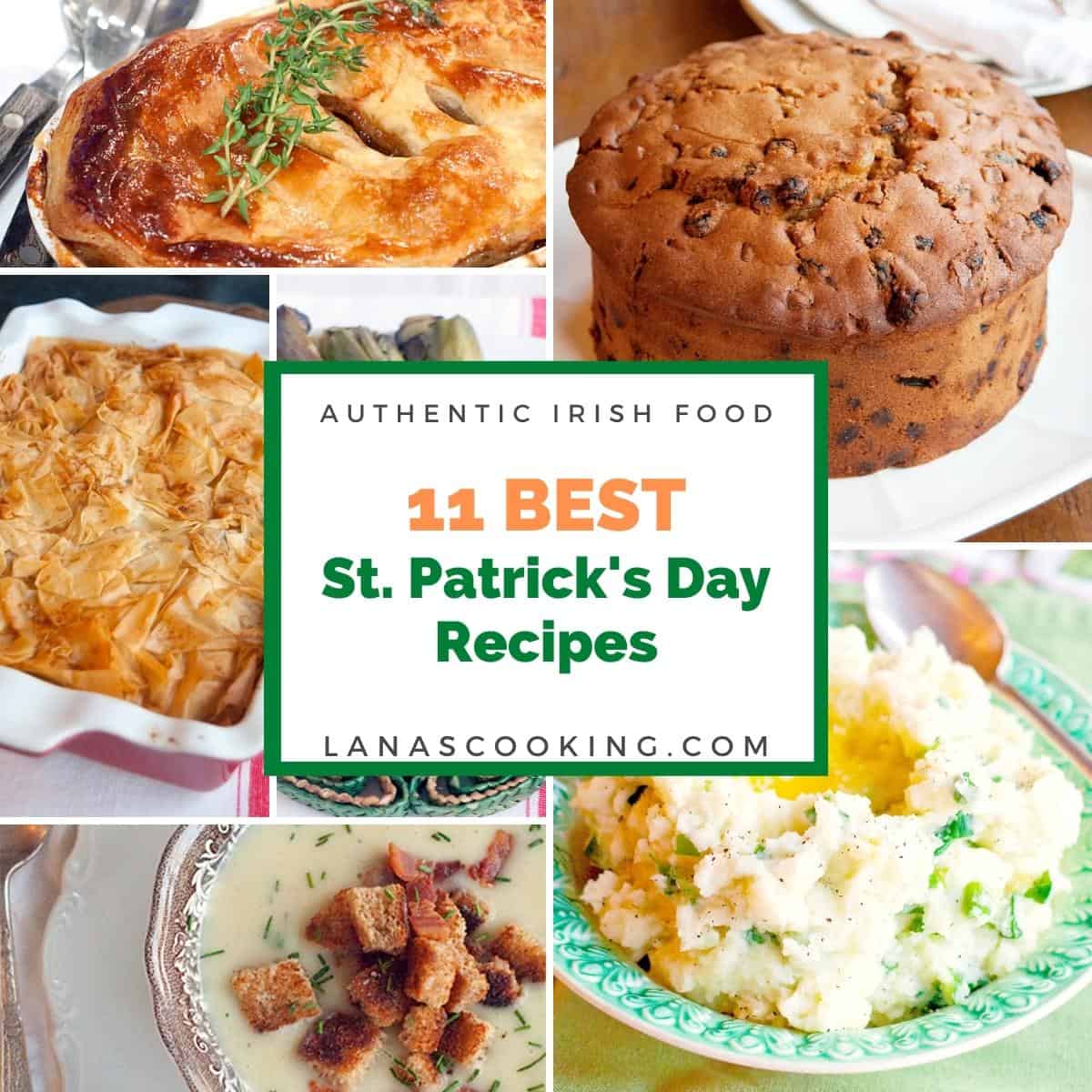 March 17, Saint Patrick's Day, or the Feast of Saint Patrick (Lá Fhéile Pádraig in Irish) is a cultural and religious celebration of the traditional date of death of Saint Patrick (c. AD 385–461). The day commemorates the arrival of Christianity in Ireland and celebrates the heritage and culture of the Irish in general.
Celebrations include parades and festivals, céilithe (traditional Irish music), and the wearing of green attire or shamrocks. Speaking of which, have you ever wondered why shamrocks are associated with the Irish? It's because St. Patrick used the three-leafed shamrock to explain the concept of the Holy Trinity.
Serve an Authentic Recipe for St. Patrick's Day
With our modern St. Patrick's Day observances, the one dish that seems to be synonymous with Paddy's Day and all things Irish in the U.S., is corned beef and cabbage. However, that's a dish that is rarely eaten in Ireland.
In Irish Country Cooking, chef Malachi McCormick says that he likes corned beef, "But our national dish? No, it's a New World dish!" It's just not eaten in Ireland, and it's certainly not washed down with cups full of green beer.
I'm sorry, but dancing leprechauns and dyed green food as a celebration of Irish culture just really set me off. It's like associating watermelon and fried chicken with a certain ethnicity. It's why every year for St. Patrick's, I make it a point to cook something traditionally and authentically Irish.
So, if you're ready to explore something truly Irish for your St. Patrick's observation, try one of the recipes I've linked below.
My 11 Best St. Patrick's Day Recipes!
This is the whole wheat version of the bread made daily in homes throughout Ireland. It's best eaten the day it's made and, preferably, with lots and lots of creamy Irish butter!
Boxty
Boxty – a traditional Irish potato pancake. Serve hot with a dollop of sour cream and a sprinkle of green onions.
Get This Recipe
(bacstaí in Irish) is a traditional Irish potato pancake mostly associated with the north midlands. In some areas, it's known as poundy or potato bread 'Boxty' comes from the Irish aran bocht tí ('poorhouse bread') so-called because potatoes and buttermilk were very nearly the only things poor Irish people had to eat in the workhouses of the 1800s.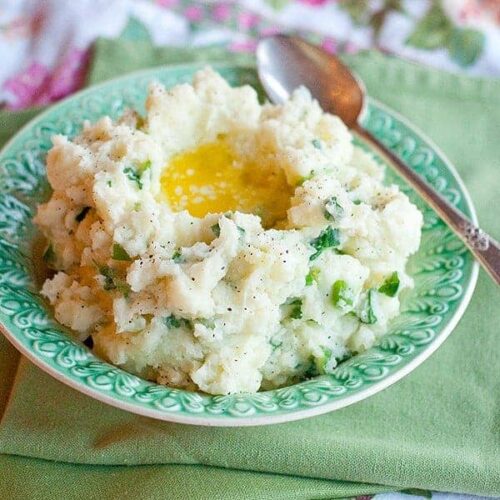 Traditional Irish Champ – creamy mashed potatoes with scallions and loads of butter.
Simple, honest cooking – a potato soup with leeks and cream. Serve it hot in winter or cold in summer.
Enjoy this classic Irish Stew with lamb, beef, carrots, and potatoes for St. Patrick's Day or any time! It's easy enough for a weeknight dinner.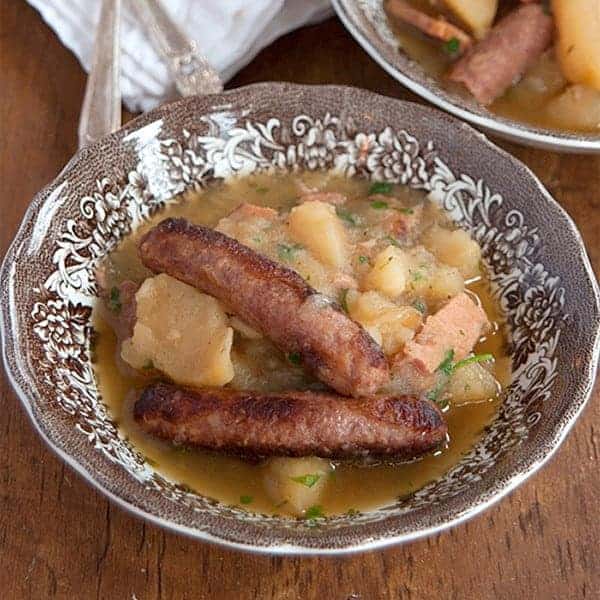 Dublin Coddle – a traditional Irish stew of onions, potatoes, bacon, and sausages. Serve with soda bread spread with lots of butter!
A traditional Irish spiced fruitcake recipe using dried fruits and spices. Lovely for your dessert or afternoon snack with a cup of tea.
Mr. Guinness' Cake
Mr. Guinness' Cake is an Irish fruitcake recipe with candied fruit, raisins, and nuts. Douse the finished cake with Guinness, and age for a week before serving.
Get This Recipe
Mr. Guinness' Cake is similar to an American fruitcake with candied fruit, raisins, and nuts. Doused with Guinness and aged for one week before serving.
A traditional recipe for Irish Fruit Scones. Very similar to American buttermilk biscuits with the addition of dried fruit, sugar, and an egg.
A rich, savory Beef and Stout Pie with mushrooms and onions and a puff pastry topping. Wonderfully comforting traditional Irish food.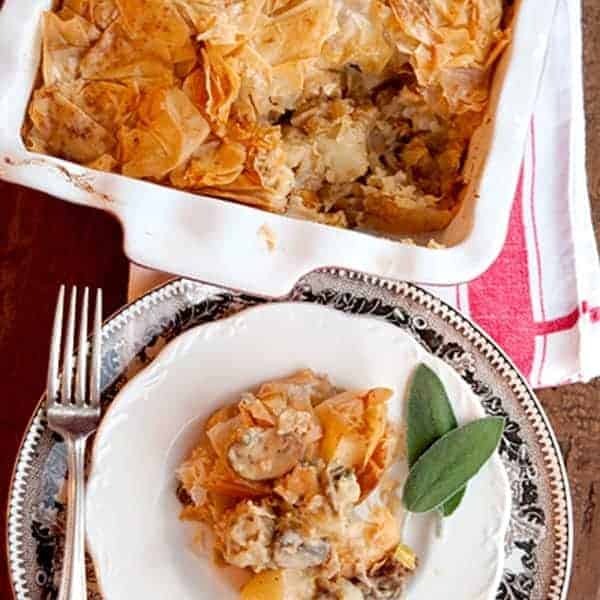 Chicken, Leek, and Mushroom Pie – a lovely, savory pie with a chicken, leek, mushroom and potato filling. A crispy phyllo topping makes the dish lighter.
---
Here's wishing you a wonderful Paddy's Day and, as the Irish say…
May those who love us, love us
And those who don't love us,
May God turn their hearts
And if he can't turn their hearts,
May he turn their ankles
So we will know them by their limping!
More Recipe Collections