My favorite holiday of the year, Thanksgiving, is just one week from today! Did I say one week?! Eeeek! Just this morning I truly realized that it is just one week. I'm not sure what fog bank I've been lost in lately, but apparently the skies just cleared and the date hit me right smack in the face. I already  have my table decor in place, but I gotta get my menu finished!
In case you're still in the menu planning stages for your Thanksgiving feast, I thought I'd offer some suggestions from past posts.
Of course, Turkey and Southern Cornbread Dressing will always be the centerpiece of our Thanksgiving dinner. If you've never had southern style cornbread dressing, please give it a try at least once. For me?
Okay! The main course was easy! So now on to the side dishes. Honestly, I look forward to the sides almost more than the main course at Thanksgiving. One of my favorites is good, old-fashioned Copper Pennies. Sweet, tangy and light. They're full of flavor and the little ones really like them. Or you could go with a side of Sauteed Broccolini or Roasted Asparagus. Those may be a little different for Thanksgiving but really delicious. And no Southern Thanksgiving would be complete without a congealed salad or two. My Sunshine Salad with its pineapple and carrot components is a great compliment to your turkey.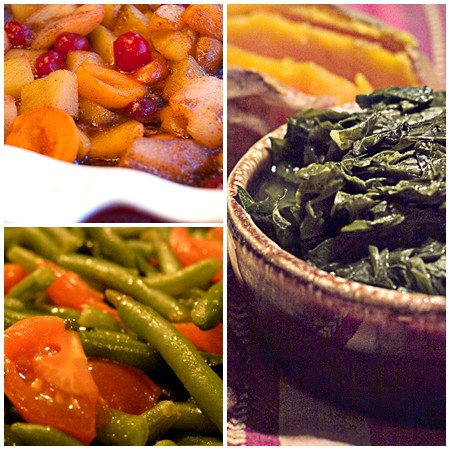 Or how about a hot, baked fruit side? This Baked Fruit recipe uses canned fruits with warm Fall spices and makes a great counterpoint to the savory dishes on the buffet. Or maybe your family would prefer fresh Green Beans with Cherry Tomatoes? Or a big pot of slow cooked Turnip Greens? All good choices!
Even after all that food, you know you still want dessert, right? Oh, come on, just have a taste, okay? Here are a few tried-and-true Southern favorites to choose from: a luscious Caramel Layer Cake, a Pecan Cheesecake Pie that combines two all-times favorites in one recipe and a smooth, velvety (with just a touch of bourbon) Charlotte Russe. Oh, yeah. I'll take a taste of each, please.
And if those aren't quite enough choices for you, here are a few more. A Glazed Pumpkin Pound Cake, Old-Fashioned Gingerbread with Lemon Glaze, and a Cream Cheese Filled Pumpkin Roll. All I need is a cup of coffee and a fork!
So, tell me what's on your menu for Thanksgiving? I'd love to hear your ideas and see your recipes, too! Is your Thanksgiving traditional or something new and different? Please share!